CNC Machining at Mollart Cox Engineering
Our CNC machining capabilities are key to developing future customers. We have a large amount of CNC machining available at our 2 sites in Chesterfield.
Below is a small selection of the machines available, these range from 2 axis CNC Lathes up to 7 axis 'Multi Tasking' machines. These machines allow Mollart Cox to further machine components that have been deep hole drilled or gun drilled.
We can offer Pre heat treat machined components all the way through to finished machine components.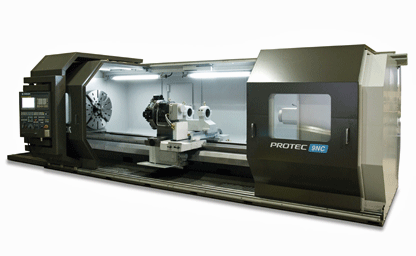 HANKOOK PROTEC 9NC X 4000 FLAT BED CNC LATHE.
With its hollow spindle bore and long boring bar capacity this
machine is capable of internal and external machine on parts up to
600mm dia x 4000mm in length.
LARGE CAPACITY CNC LATHE
Capable of machining 1250mm dia X 6000mm long. This machine can hold 10 tonnes between centres without steady rests.
HONING OPERATIONS
CNC Honing is an abrasive machining process that produces a precision surface on a metal work piece by scrubbing an abrasive stone against it along a controlled path. Honing is primarily used to improve the geometric form of a surface, but may also improve the surface texture.
Typical applications are the finishing of cylinders for internal combustion engines, air bearing spindles and gears. Types of hone are many and various but all consist of one or more abrasive stones that are held under pressure against the surface they are working on. One of the main industries this is used for at Mollart Cox Engineering is for the finishing of hydraulic cylinders used in many applications also for the finishing of Drilling Collars for the oil and gas industries.
It is an integral part of the production process at Mollart Cox Engineering, allowing solid bars to be delivered in to our workshop and being returned completely finished to a high accuracy on size and surface finish. The tolerances we can achieve are as tight as .0125mm (.0005″) and to a surface finish as low as 8 cla (0.2Ra). Working closely with our preferred supplier Mollart Cox Products the sole UK distributors for Ohio Tool Works Corp. We are able to purchase specially designed tooling and abrasives to carry out any bore finishing operation to fulfill our customers needs.
We also offer other similar bore finishing operations. These are Skiving and Roller Burnishing, both of these operations can be instead of honing or to complement the honing process. Please contact Mollart Cox Engineering to talk to our specialist sales team regarding any of your bore finishing requirements.